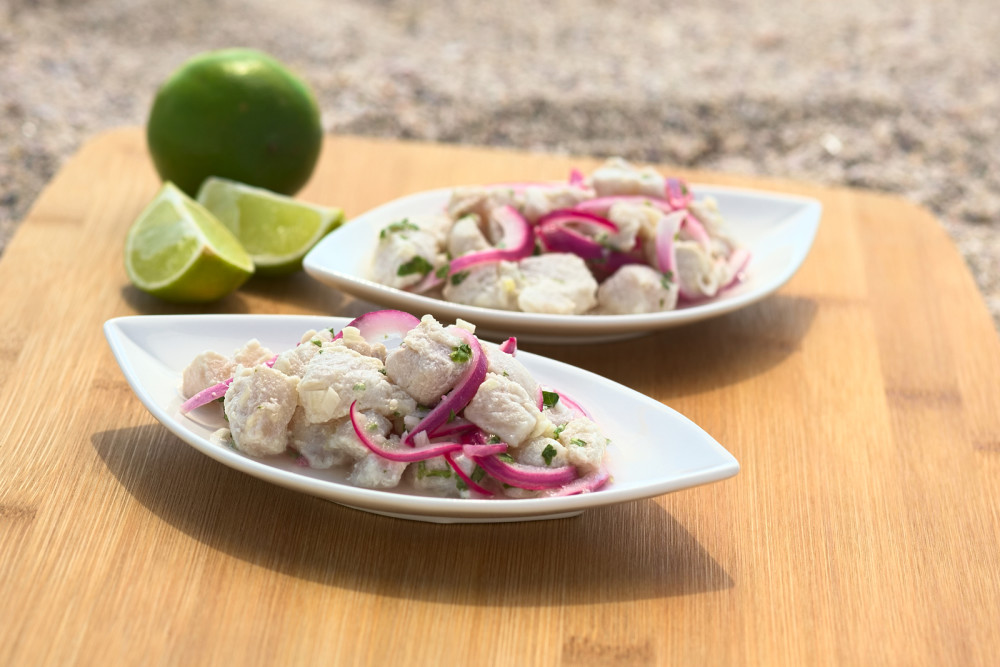 The best ceviche I have ever tasted was in Pescados Capitales in a industrial part of Lima, Peru. The fish was fresh from the ocean, the onions had a bit of a bite, the peppers were spicy but not overbearing, and the citrus from the fresh lime juice rounded out the appetizer. I've also enjoyed ceviche in Colombia, Mexico and a couple of other Latin countries and in the U.S. Basically, if I see ceviche on the menu, I want to try it.
All of the counties and even each restaurant within a region usually have significantly different variations. For instance, Colombian ceviche is served with Saltines and ketchup. Mexican ceviche typically is served with pico de gallo flavors (diced tomatoes, onions, lime, cilantro, avocado, and tortilla chips) and makes for a light and healthy lunch. The Mexican ceviche was still fresh, but the ingredients marinated for hours maybe a day or two.
Basic Peruvian ceviche only has five ingredients fish, lime juice, aji (similar to a Habanero pepper), salt, and onion. It is always served within fifteen minutes after the lime is added to the fish.
PERUVIAN STYLE CEVICHE RECIPE
Note: My Peruvian wife considers the ceviche of her home to be the benchmark against which all others are judged. All the other types of ceviche are offensive. Sometimes I like to sneak cilantro into this recipe.
INGREDIENTS
1 ½ pounds very fresh and good quality fish (Sea bass or halibut)
1 red onion, very thinly sliced (best when semitransparent)
1 cup freshly squeezed lime juice, from about 25 or 30 key limes
1-2 habanero peppers, cut in half, without seeds and deveined
1 bunch of fresh cilantro
Salt to taste
METHOD
Cut the fish into small cubes, place in a glass bowl
Dissolve 1/4 cup of salt in 3 cups of very warm water add onions, leave onion submerged while you prepare the rest of the ingredients.
Mince the cilantro and habanero.
Place the cubes of fish, cilantro and hot peppers in a glass bowl and pour the lime juice over the ingredients.
Using your hand remove the onions from water and squeeze as much liquid as possible from the onions, add onions to the mix.
Cover and refrigerate for about 10-15 minutes.
Taste the fish ceviche and add additional salt if needed.
Use a slotted spoon to remove the fish and onions from the lime juice mix and place in a serving bowl, sprinkle with olive oil and finely chopped cilantro.
Serve immediately with your choice of sides and garnishes. Peruvian ceviche is typically served on a lettuce leaf with corn, (Andean style corn nuts) and sweet potato.