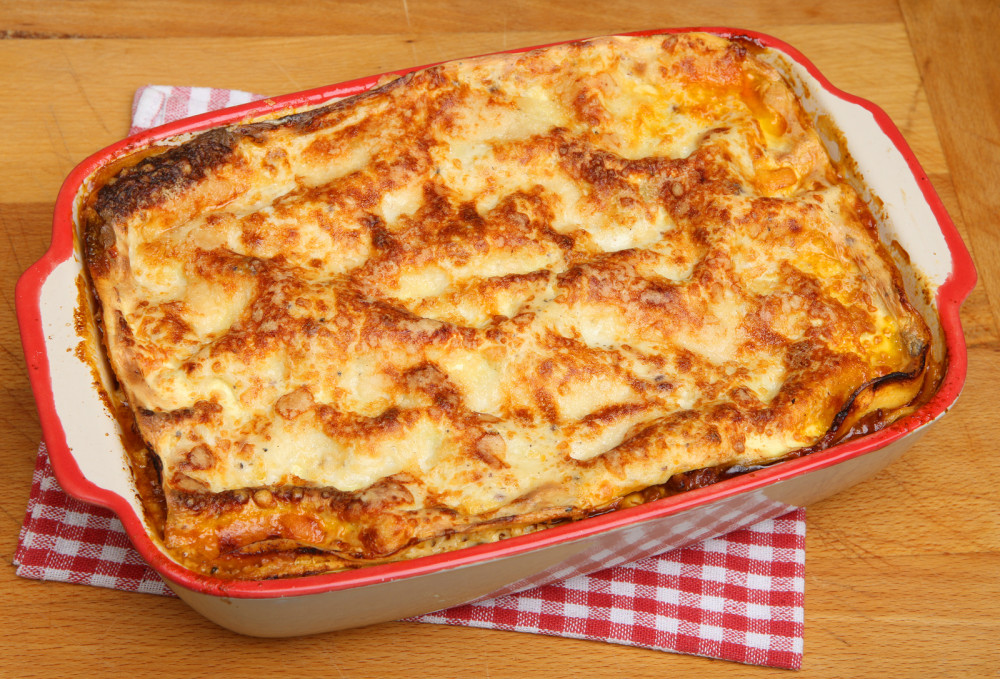 I've been trying to perfect the way I make lasagna for the past 10 years. It's a bit of a personal obsession. This recipe is the culmination of my years of tinkering and refining to my personal preference.
The variations and twists that each chef can bring to this classic Italian dish is always astounding. A chef that I worked for in Alaska used a generous amount of ricotta and the staff couldn't get enough of it. A line cook outside Cincinnati would add sugar to the meat sauce to balance out the bitterness and acidity of the tomatoes. It seemed like a simple solution and it was. I remember the owner of that Italian restaurant not liking his attitude but loving his sauce. That little bit of sugar transformed his Bolognese sauce from average to excellent.
And finally, a chef I know in Big Sky, Montana, patiently taught me to make the lasagna noodles using semolina flour. Occasionally I don't want to go to the trouble or just don't have the time to make homemade pasta. You may not want to make the pasta either. Not to worry, with store bought dry lasagna sheets your lasagna is still going to be a very popular dish. When using dry pasta no need to par cook the pasta, just follow the recipe below and use it in place of the fresh noodles.
The Best Lasagna You'll Ever Eat Recipe
PASTA
1 cup all-purpose flour
1 cup semolina flour
1 pinch salt
3 large eggs
1 tablespoon olive oil
Touch of water (as needed)
METHOD
Add all ingredients into your Kitchen-Aid stand mixer and mix using the dough hook. Process just until the dough forms.
Knead dough by hand about five times or until dough is smooth, a little tacky and ingredients are combined.
Dust the dough and your work surface with semolina as needed to keep dough from becoming too sticky.
Wrap dough in plastic, or if available Kryovak the dough, and allow it to rest in the refrigerator for 1 hour. While the dough is resting, it is a good time to start the sauce.
Roll out dough with a pasta machine or a rolling pin to about 1/8th of an inch thick or the second thinnest setting on your pasta machine.
Don't worry if your lasagna sheets don't look like store bought sheets. The thickness of the dough is the important part, not how it looks!
LASAGNASAUCE RECIPE
1 pound sweet Italian sausage
3/4 pound lean ground beef
1/2 cup chopped onion
5 cloves chopped garlic
1/4 cup dry red wine
1 (28 ounce) can crushed tomatoes
28 oz. Pizzaoilo sauce
2 tablespoons white sugar
4 tablespoons chiffonade fresh basil
4 tablespoons chopped fresh oregano
2 tablespoons chopped fresh rosemary
4 tablespoons chopped fresh thyme
16 ounces ricotta cheese
8 oz. Marzcapone cheese
3/4 pound mozzarella cheese, shredded
3/4 cup grated Parmesan cheese
Salt and pepper to taste
PREPARING THE SAUCE
Preheat your oven to 350° F.
In a large heavy bottom sauce pan, cook sausage, ground beef, onion, and garlic over medium heat until well browned. Deglaze with red wine. Stir in crushed tomatoes, sugar and Pizzaoilo sauce. Season with salt and pepper. Simmer for about 1/2 hour, stirring occasionally.
Combine Marzcapone, ricotta, and herbs in a bowl. The whisk attachment on the Kitchen-aid works well for this step.
To assemble, spread 1 1/2 cups of meat sauce in the bottom of a 9×13 inch baking dish. Arrange noodles over meat sauce. Dollop one half of the ricotta cheese mixture. Top with a third of mozzarella cheese. Spoon 1 1/2 cups meat sauce over mozzarella, and sprinkle with 1/4 cup Parmesan cheese. Repeat layers, and top with remaining mozzarella and Parmesan cheese. Cover tightly with plastic wrap, then with foil. To prevent sticking spray the plastic wrap with cooking spray.
Bake covered for 40 minutes. Carefully remove foil and plastic wrap (be careful of the hot steam) and bake an additional 10 minutes. Cool for 15 minutes before serving.