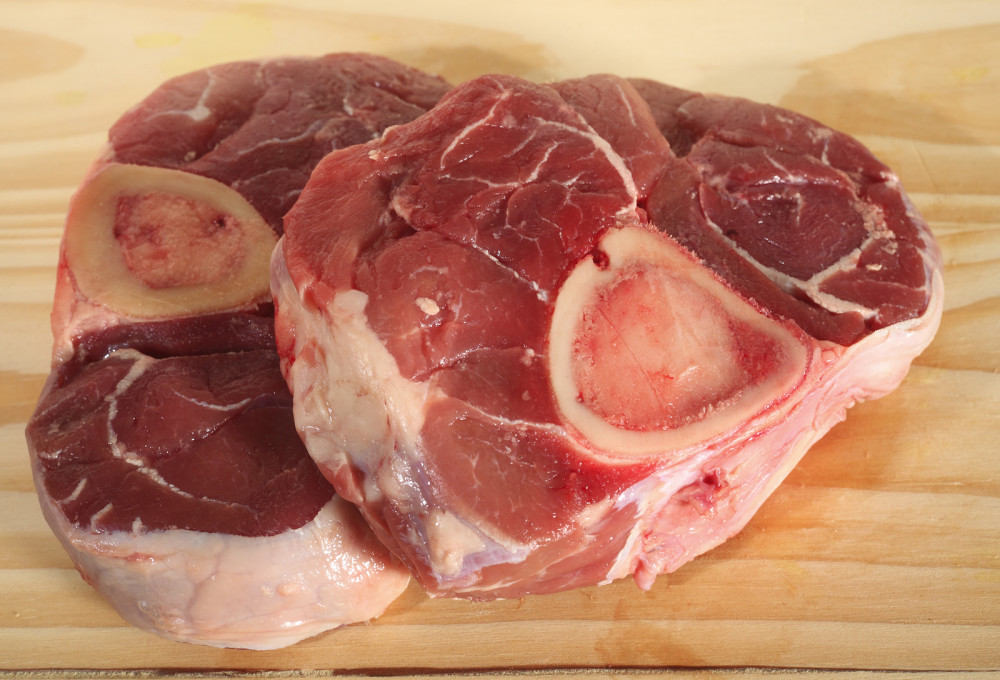 Osso Bucco is a classic Italian braised dish made with veal shank, fresh herbs, tomatoes, and wine. Osso Bucco was first introduced to me the second year I worked in a commercial kitchen. The chef I working for patiently walked me through the braising process. I was privileged and extremely enthusiastic. What's not to like about large cuts of meat, two massive well-used roasting pans and a large quantity of wine that is used for deglazing?
The organization of ingredients and the numerous steps involved proved to me that I was improving my culinary skills and that my boss believed me to be capable on the gourmet level. Looking back maybe I was overreacting. Osso Bucco really isn't very difficult to make, but just like all classical dishes there is a definite process, and for good reason.
CLASSIC ITALIAN OSSO BUCCO RECIPE
INGREDIENTS
2 Tbsp.rough chopped fresh rosemary
3 Tbsp. chopped fresh thyme
5 dry bay leaf
8 dried Juniper berries
Kitchen twine, for tying the veal shanks
4 whole veal shanks (about 1 pound per shank)
Salt and freshly ground black pepper
Flour, for dredging
1/2 cup vegetable oil
1 small onion, diced into 1/2-inch cubes
3 carrots, diced into 1/2-inch cubes
3 stalks celery, diced into 1/2 inch cubes
5 garlic cloves rough chopped
1 can 14.5 oz. peeled tomatoes
2 cup dry white wine
3 cups chicken stock
1 cup veal demi-glace (if available)
METHOD
Preheat the oven to 325F.
For the veal shanks, pat dry with paper towels to remove any excess moisture. Secure the meat to the bone with the kitchen twine. Dredge the shanks in seasoned flour (flour with salt and pepper), shaking off excess.
Using a roasting pan or Dutch oven heat vegetable oil until close to smoking. Add tied veal shanks to the hot pan and brown all sides, about 3 minutes per side. Remove browned shanks and reserve.
In the same pot, add half the wine and deglaze then add all of the fresh vegetables and herbs. Saute until soft and translucent, about 8 minutes. Add the tomatoes and mix. Return browned shanks to the pan and add the remaining white wine and reduce liquid by half, about 5 minutes. Add the chicken stock and demi-glace then bring to a boil. Cover and place in oven. Bake 2 – 2 1/2 hours, or until the veal is tender.
Carefully remove the cooked shanks from the pot and cut off the kitchen twine.
Remove bay leaves. Puree and season (if necessary) the remaining ingredients from the pan and pour over the shanks (if the sauce is thin return it to a pan and reduce). Garnish with Gremolata and serve over soft polenta.
Note: If you can't find veal, bison shank is a great substitute. Lamb will work well too.